Sales | Service | Repairs

Ruud Air Conditioning
Ruud Air Conditioning provides  Heating and cooling efficiencies. Good SEER Features will help save the energy it takes to run your cooling and heating systems.
Ruud Air Conditioning Cost
The cost of a new Air Conditioning System is dependent on a few variables of needs and wants in your AC system.
Ask the experts at Atlantis Air Conditioning to help give you all the choices you can have to save money and be the most comfortable you can be for years to come.
The SEER rating is developed to rate each AC unit as a guide to help you decide which Air Conditioning system to purchase. The higher the SEER rating the less electric usage is needed to make your living space comfortable.
Ask Atlantis to help you get the right size and features for your home or business.
Rudd Residential and commercial heating and cooling installed by the best HVAC Technician in the Palm Beach Air Conditioning Market.
Rudd Air Conditioning Units
The best system for your home to same on your energy bill. Features & Benefits
PlusOne™ Energy Performance and Efficiency with a minimum of 20 SEER and 13 EER systems.
PlusOne™ Expanded Valve Space – 3″ -4 "-5" service valve space – provides a minimum working area of 27-square inches for easier access.
Repairs are faster and easier with the PlusOne™ Triple Service Access – This leading industry 15″ wide, corner service access – makes repairs more accessible and quicker. A removable corner with two fasteners' allows easy access to internal unit components. Individual louver panels come out once the fastener is removed, For faster coil cleaning and easier cabinet reassembly.
Ruud Commercial Cooling and Heating
Ruud Air Conditioning on commercial installations for all your heating and cooling needs. Roof Top Installations with the best design to optimize your commercial savings you will get from these different Rudd AC SEER energy savings.
Call Atlantis AC for a Free installations quote. See how are team will save you some serious time and money on your next Commercial construction project's 
Ruud Residential Air Conditioners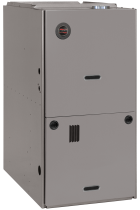 Single-stage
Constant Torque ECM Motor
Ruud-Exclusive PlusOne™ Ignition System
Industry-First PlusOne™ Diagnostics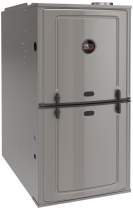 FIRST CERTIFIED, lowest emission furnace in the industry*
Industry – First, Ultra Low NOx Technology
Environmentally friendly and responsible
Eligible for the $500 SCAQMD CLEANair  furnace rebate**
Single Stage, Same 34″ Cabinet Height, Simple Technology
PlusOne™ Diagnostics: 7-Segment LED for faster and more accurate diagnostics
Plus One™ Ignition System: DSI for unmatched durability & years of worry free-operation 
360 Serviceability™ with a removable heat exchanger 
*The R801TA Ultra Low NOx Furnace was the first to be certified, in June 2016, by meeting the SCAQMD Rule 1111, as published in the SCAQMD Advisor, Volume 24 March/April 2017 issue.
** Refer to http://www.cleanairfurnacerebate.com for complete program and rebate details. LEARN MORE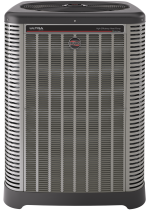 Efficiencies up to 20 SEER/14 EER
EcoNet™ Enabled
Variable Speed Compressor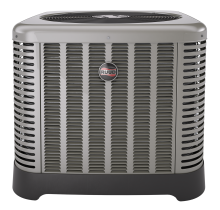 Efficiencies up to 14 SEER / 11.5 EER/9 HSPF
Scroll compressor
Composite base pan for quieter operation
Piston option available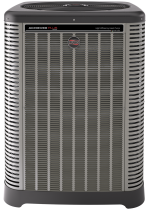 Efficiencies up to 18.5 SEER/13 EER/8.5 HSPF
EcoNet™ enabled
Three-stage operation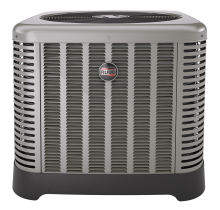 Efficiencies up to 14.5 SEER/12 EER/8.5 HSPF
Scroll compressor
Composite base pan for quieter operation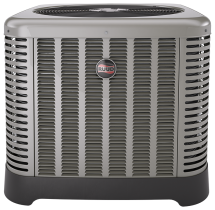 Efficiencies up to 16 SEER/13 EER
Two-stage scroll compressor
Composite base pan for quieter operation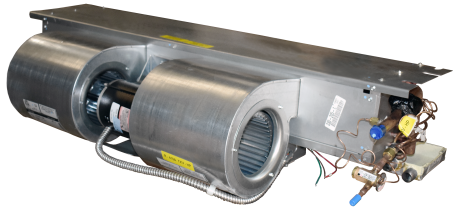 RHXT 
X-13 (ECM) Motor
Efficiencies up to 16 SEER
RHXP 
PSC Motor
Efficiencies up to 14.5 SEER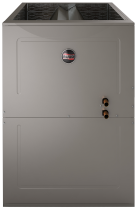 Integrated Heating and Water Heating
Hydronic heating coil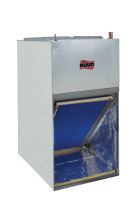 Efficiencies up to 16 SEER
Compact Unit Design (36″ Tall)
Constant torque (ECM) single-stage airflow
All aluminum indoor coil